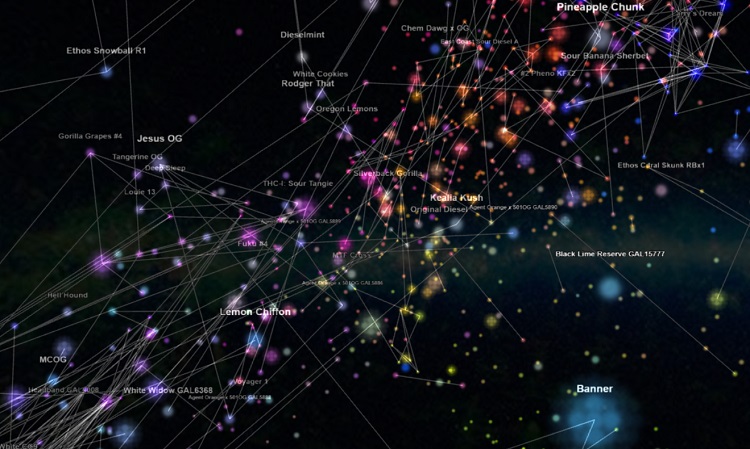 A Funky Trip Around the Phylos Galaxy
Citizens of the Universe –

Last night, after a long day at the "office", I decided to put on some Parliament, Mothership Connection, to be specific, and enjoy a little Skywalker OG. My head began to swirl a bit while Bootsy was slapping that bass fast and loose like some kind of delirious funky priest. Then, for some reason, I started to reflect on what we had been discussing earlier at work – Phylos Bioscience.
I was trying to escape the gravity of the day, but I couldn't stop thinking about Phylos. We're partnering with them so that wholesale flower strains sold on our platform can have real, scientific validation carrying the Phylos Certified badge. But, that's work stuff and, like I said, I was hoping to not think about work stuff. That's when I remember the Phylos Galaxy.

"Supergroovalisticprosifunkstication" was the soundtrack as I typed out the URL –  https://phylos.bio/galaxy/. And, my exploration began, or should I say "re-began". I had visited the Galaxy before, but it had been a while and wow had things changed. Give the people what they want, when they want, and they wants it all the time. There were clusters much more dense than I had seen on my last visit. The colors were certainly more vivid, which could have been the result of the Skywalker. And, speaking of Skywalker OG, that's where I began my search of the Phylos Galaxy. Next, I switched on autopilot (the "play" button down in the lower right area), maximized my window, and kicked back to enjoy the journey from strain system to strain system.     

By the time "Night of the Thumpasorus Peoples" was coming to its gaga-googa-ga-ga-googa-ga-ga-goo-ga-ga close, I had been to the far reaches of the Galaxy and was in the right head space to ease over to bed, drift off into a happy slumber and recharge to face another day in the cannabis industry, which, by the way, is amazing to be a part of, because I can write blog posts like this.